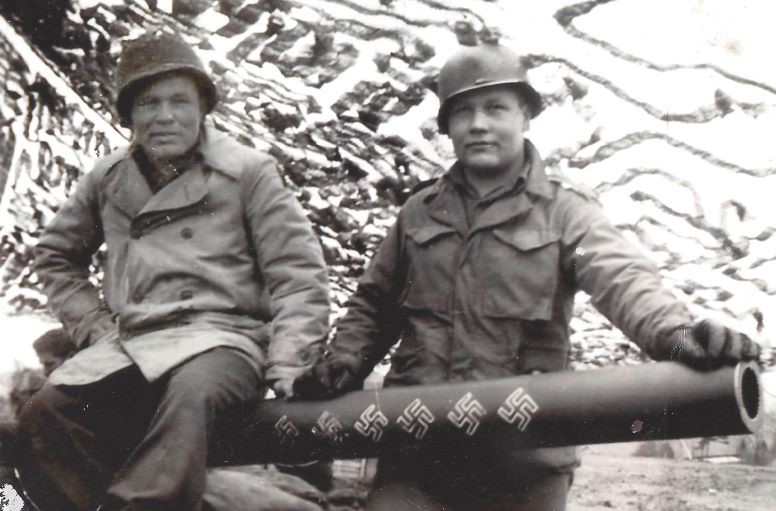 13 Jun

True Patriotism

Patriotism, to this humble blogger, is a concept best reflected in his late father and other relatives and friends who served in wars. Particularly Uncle Don and Uncle Dick, pictured above during a lull in the Battle of the Bulge, were patriots in the truest sense of the word.

Though they were athletic as young men, Dick and Don never played for the New England Patriots. Though they lived well into old age, neither was a Colonist who fought in the American Revolution. Though they were active in the American Legion, and they were interested in government, we know not what either uncle thought about Patriot missile batteries or the Patriot Act. And they certainly would not have been among the self-proclaimed "patriots" who, waving American flags, stormed the U.S. Capitol Building on January 6, 2021.

What made Uncles Don and Dick patriots was their lifelong manifestation of the principles that constitute patriotism.

Patriotic Lives of Principle

Donald Wittrock, the oldest son in a family of eight children, was born in 1921. His brother, Dick Wittrock followed in 1924. Both were born on the Iowa farm owned by their "pa" (this blogger's grandfather), and they later became farmers in the same county in which they were raised.  

Their years of birth made them 22 and 19 when the Allies invaded German-held France at Normandy. Don and Dick were there, in separate units. Both then traveled eastward across France, their divisions pushing Hitler's troops back with each step. Ultimately, their respective Army platoons made their way to Belgium for the decisive confrontation in and around Bastogne, where Germany had created a "bulge" in the front with a surprise counterattack toward the crucial supply port of Antwerp.

It was during this time that young Dick learned his older brother was stationed in the same part of Belgium. Dick hitched a ride on an officer's jeep and showed up in Don's unit, where the photo was taken. The big gun by which they posed launched shells at German positions, including one shot by which Don and his crew destroyed a crucial bridge from 12 miles away.

Donald died in 2016, the day after Veterans Day, at the age of 95. Dick lived until this Spring of 2023, when he died in at 98. As reported here in My Father's Politics, their little brother Vernon, who served in the Korean War, died in 2021 at the "youthful" age of almost 93.

The most obvious patriotic principle lived out by all three was that of service. Don, Dick, and Vern all served their country and the free world. That is a big, big part of what a patriot does. Each also served his family, community, and church well into their nineties.

Patriots also embody the principle of respect, meaning they bring respect to America. In their published works late in life, the brothers tell of appreciation and gratitude shown by civilians throughout Europe and Asia toward the U.S. soldiers. Dignity is another principle that patriots live out by treating their fellow humans as created in the image of God and thus deserving of protection, sacrifice, and honor. Our heroes clearly did this in England, France, Belgium, Korea, and back in Northwest Iowa. The leadership principle of peace also is apparent in these lives. Although they fought in wars, they did so to bring lasting peace to America and its allies. Thanks in part to them, the Earth prospered without another World War for many remaining decades of these brothers' lives.

Too often today, supposed American "patriots" will question — mostly for partisan gain — whether their opponents "love America" or "hate America." Or, as Minnesota congresswoman Michelle Bachman once said, "I wish the American media would take a great look at the views of the people in Congress and find out: Are they pro-America or anti-America?"

Our guess is that they all are pro-America and do love the United States, but politicians show it in different ways. The Wittrock brothers showed their love of country by sacrificing years of their lives (and potentially losing their lives altogether) and thus exemplifying the principle of service. That was and remains patriotism at its finest.

The Bible was addressing this same concept in John 15:13: "Greater love hath no man than this, that a man lay down his life for his friends." That is what soldiers and other true patriots are willing to do.

That is the definition of patriotism: service of our country that garners respect for America, treats others with dignity, and promotes peace. Please give this some thought on Flag Day.

Written by Quentin R. Wittrock, founder of Principle Based Politics. 

Look for his posts each week, as this blog will explore and promote the idea of principle in politics, both as to individual elected leaders and our federal government as an institution.