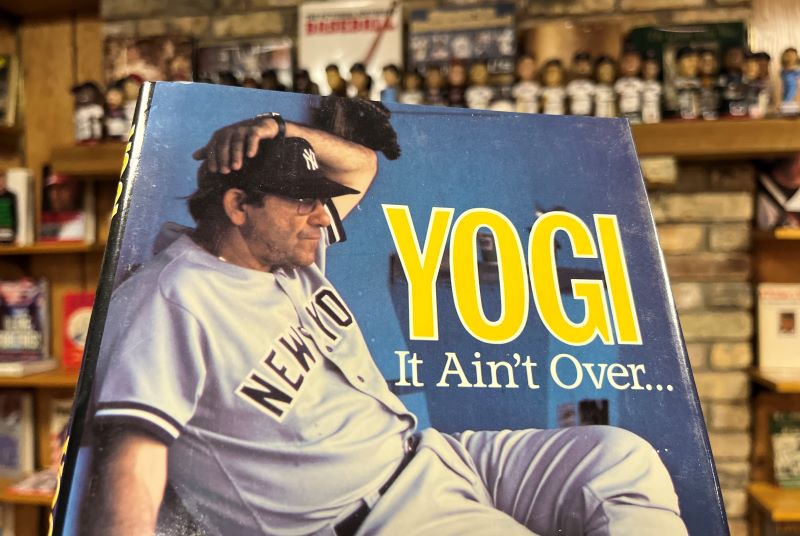 07 Nov

One Year to the '24 Election, is it Over?

Bad news came to the frat boys in the movie Animal House; they all were being kicked out of school. "It's over," was the word. "Bluto" Blutarsky, played by the late John Belushi, was not willing to accept that news, and he decided it was time to make an impassioned speech:

What? Over? Did you say over? Nothing is over until WE decide it is! Was it over when the Germans bombed Pearl Harbor?… (Note: Bluto was a bit confused about military history.) And it ain't over now. Cuz when the going gets tough…..the tough get going. Who's with me? Let's go!

Baseball's legendarily malaprop-prone philosopher, Yogi Berra, was more succinct when he famously coined the phrase, "It ain't over 'til it's over."

But Belushi's speech was made in a movie set in 1962, and Berra retired as a player in 1965. Neither was forced to witness the state of American politics in the current era.

Today is Election Day 2023. The 2024 presidential election is just a year away, and current polls of likely primary voters point to Donald Trump and Joe Biden as the frontrunning nominees for another four years of "leading" us. Many prognosticators and voters view this matchup as a fait accompli – a thing that is "over" and irreversible.

Is it? Is it really over? To the three-fourths (or more) of Americans who do not want a Biden-Trump rematch, Lance Morrow wrote recently in the Wall Street Journal that we are going through something akin to the five stages of grief: denial, anger, bargaining, depression, and acceptance. Regarding the sorry prospect of Trump v. Biden II, he sadly suggested that it may be time for the "acceptance" stage. "Americans might have to accept that 'democracy sometimes produces stupid results,'" Morrow wrote.

Things can change, though, and poll results (especially a year in advance) often do not come to fruition. In addition, some polls this year have found that 45 percent of Republicans would not vote for Donald Trump if a jury convicts him of a felony, and another 20 percent were undecided on that. Also, although over half of Republicans say they "support" Trump now, only a portion of those say they are "committed" to him. Forty percent of Trump supporters say they are "open" to voting for another Republican.

This blog foresees six scenarios, any of which could produce a different duo than Biden and Trump.

1.  An alternative candidate gets hot and wins the nomination. On the Republican side, there is an alphabet soup of non-Trump options, as we have noted in our recent posts on Asa Hutchinson, Doug Burgum, Chris Christie, Ron DeSantis, Nikki Haley, and Vivek Ramaswamy.

Americans for Prosperity (AFP) is a well-funded conservative advocacy group with 450 full-time staff and 1,000 part-time canvassers, and they are seeking a Republican alternative to Donald Trump. "If we nominate Trump, Republicans lose," an AFP ad says. The group is sponsoring a get-out-the-primary-vote effort in targeted states, with a goal of inspiring voters besides the Trumpites.

On the Democratic side, very few courageous politicians and leaders have encouraged others to challenge President Biden. Recently, however, U.S. Rep. Dean Phillips of Minnesota has entered the race for the Democratic nomination. 

2.  Third-party candidates gain popularity. For example, a bipartisan group known as "No Labels" is securing space on state ballots for an alternative if the parties nominate Presidents Biden and Trump. Fear of losing votes to a No Labels ticket could lead either party to change horses. More to follow on this scenario.

3.  Either frontrunner withdraws because he is "shamed out." This scenario could occur when poll numbers drop even further, and the candidate realizes he is not loved even by voters in his own party.

4.  Either frontrunner suffers a serious health issue. Given their ages and apparent health, this is a distinct possibility.

5.  Either frontrunner faces an overwhelming scandal or legal issue. President 45 has numerous legal challenges, as we profiled in The Trump Suits. Number 46 has his own Goodwill Hunt(er)ing problem, and he is the subject of an ongoing impeachment inquiry.

Perhaps Trump – transactional and self-interested as he is – will drop out as part of a plea agreement of sorts by which he pleads guilty to lesser charges and promises not to run for the White House. This would minimize his risk of being deemed a "loser" in a criminal trial or (once again) in an election.

Biden, who seems a bit vain himself, could step aside to protect his legacy and family name.

6.  Party leaders and donors demand change. In this scenario, Republicans who control party funds would announce that they will refuse to support Trump, even if he is the GOP nominee, and power-broker Democrats would eventually say the same about Biden. They might do this if they think their current frontrunner is doomed to lose, based on polls, especially polls showing that independents do not like their party's current frontrunner.

Big-money Republicans already are steering away from Trump. Moreover, the Wall Street Journal's Daniel Henninger predicted on August 31, 2023, that, to win against Trump, Democrats will "do what they have to do" and "pull the plug on Joe Biden." Recall that Democrats did exactly this in 2020 when they abruptly ousted Bernie Sanders from his top spot (because they thought he would lose to Trump) and replaced him with Biden himself.

If one party stops playing chicken, the other will realize its plight and do the same.

Especially in this sixth scenario, but also the first three listed above, all voters play an important role. We can do something about it. That includes (1) spreading this word to your friends and social media contacts, explaining that they can make a difference; (2) answering pollsters when they call; (3) directly telling your political party that you want a different nominee; (4) voting in your primary or caucus; (5) continuing to follow and forward this blog as Principle Based Politics strives for its goal of bringing voters the best, most principled candidates America has to offer.

In actuality, nothing about the 2024 races will be truly "over" for several months. Thus, as Berra said, it is not. In the words of Belushi's Blutarsky, "Who's with me? Let's go!"

Written by Quentin R. Wittrock, founder of Principle Based Politics. 

Look for his posts each week, as this blog will explore and promote the idea of principle in politics, both as to individual elected leaders and our federal government as an institution.