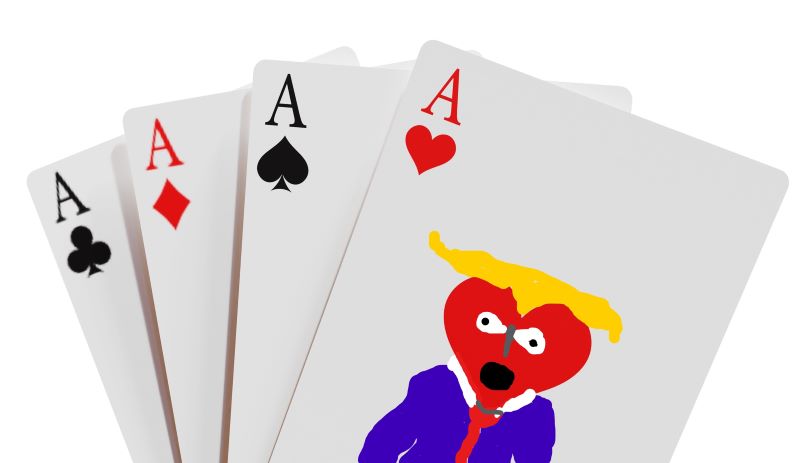 11 Jul

The Trump Suits

There are professional clothing sets commonly known as "suits," and Donald Trump always wore one in the White House (with a red necktie).

There also are what suit-wearing lawyers call another kind of "suits," which is short for lawsuits. Now that he is out of the White House, Donald Trump finds himself cloaked in legal suits, as well.

In addition, a standard deck of playing cards is divided into four "suits," and we believe those four offer a good way for a lawyer-turned-blogger to categorize and discuss the ongoing litigation suits filed by fancy-suited lawyers against the suit-adorned former president.

It is a lucky coincidence for our headline above that, in cards, any of spades, clubs, diamonds, and hearts can be declared "trump." Bridge, euchre, whist, pinochle, and many other games all have trump cards, an ace of trump, and such. For today's purposes, however, the Trump Suits can be sorted as follows:

Spades. These are the legal proceedings related to Donald Trump's request that election officials in the State of Georgia dig around and come up with enough votes to pronounce him the winner. Spades also is an apt category in which to place the efforts of investigators to dig up the classified documents President Trump took with him upon leaving the White House.

On Saturday, January 2, 2021, Mr. Trump placed an hour-long and recorded phone call to Georgia Secretary of State Brad Raffensperger, in which the president begged Raffensperger to "find 11,780 votes." How would Georgia dig up those votes? By "saying, you know, um, that you've recalculated," Mr. Trump suggested. In that same timeframe, the Trump team allegedly attempted to submit a slate of "fake electors" to the Electoral College – people who really were Trump supporters. A grand jury indictment is expected in August on election interference charges.

Meanwhile, the U.S. Department of Justice, led by special counsel Jack Smith, dug into how classified documents found their way to Mr. Trump's Mar-a-Lago resort in Florida and why Mr. Trump did not return them when asked. On June 8, 2023, former President Trump was indicted in Miami for knowingly keeping, showing, and trying to hide classified information. The most significant allegation is that Mr. Trump looked through the boxes of the documents, and then moved more than half of them into the bathroom of his residence, where he hoped they would never be found — even by his own lawyers, let alone the Department of Justice. They found them. A federal felony trial may occur later this year.

Clubs. Some of his followers who attacked the U.S. Capitol on January 6, 2021, swung poles or other weapons, so this category will analyze the legal case seeking to hold Mr. Trump accountable for the violence that day. Special prosecutor Smith is considering federal criminal charges against Mr. Trump following the House impeachment proceedings and especially the investigation, report, and referral by the House Select January 6 Committee. If filed, these new charges are expected to focus on Trump's incitement of insurrection and actions/inaction in the face of it.  

Diamonds. A civil litigation case involving money and assets was filed by New York State Attorney General Letitia James last September against former President Trump, his three adult children, and the Trump Organization for fraud, including the use of false financial statements and improper valuation of real estate. Although the claims against daughter Ivanka Trump recently were dismissed, the remainder of the lawsuit remains ongoing, with a trial currently set for October of this year.

Hearts. While there surely was no love involved, this section will discuss the sex-related cases.

The first such matter involves a woman known as Stormy Daniels, who Donald Trump allegedly paid not to claim they had sex. According to a recent criminal indictment in New York state court, then-candidate Trump agreed to this deal shortly before the 2016 presidential election. Former Trump attorney Michael Cohen testified to the grand jury that he paid $130,000 to Ms. Daniels and was reimbursed by Mr. Trump through monthly payments labeled "retainer," even though there was no retainer agreement. Such evidence would prove false business records, a violation of New York law, with those mislabeled payments really being an undisclosed campaign expense in violation of federal law. Attorney Cohen pleaded guilty to related charges. As of now, a state-court trial is set to begin March 25, 2024.

Shortly after the arrest and charges in the case involving payments to Ms. Daniels, a woman named E. Jean Carroll was awarded $5 million by a New York jury in her civil case for sexual assault and defamation. The jury apparently agreed with Ms. Carroll that Mr. Trump saw her at a department store, asked for her help in choosing a gift from the lingerie section, went with her to the dressing room, and then attempted to force himself upon her sexually. Former President Trump did not appear in court and has filed an appeal. This was not a criminal case, and the jury did not find that Trump actually raped Ms. Carroll. On CNN the next day, he called her a "wack job" with a "fake…made-up story." For these and other statements, Ms. Carroll continues to pursue a separate, ongoing civil defamation and punitive damages lawsuit, seeking another $10 million.

As any good player of the card game "500" will tell you, if you do not like the spades, clubs, diamonds, or hearts dealt to you, another option always is to bid "no trump." That strategy, especially when you know where the joker is, often is a good one.

Written by Quentin R. Wittrock, founder of Principle Based Politics. 

Look for his posts each week, as this blog will explore and promote the idea of principle in politics, both as to individual elected leaders and our federal government as an institution.