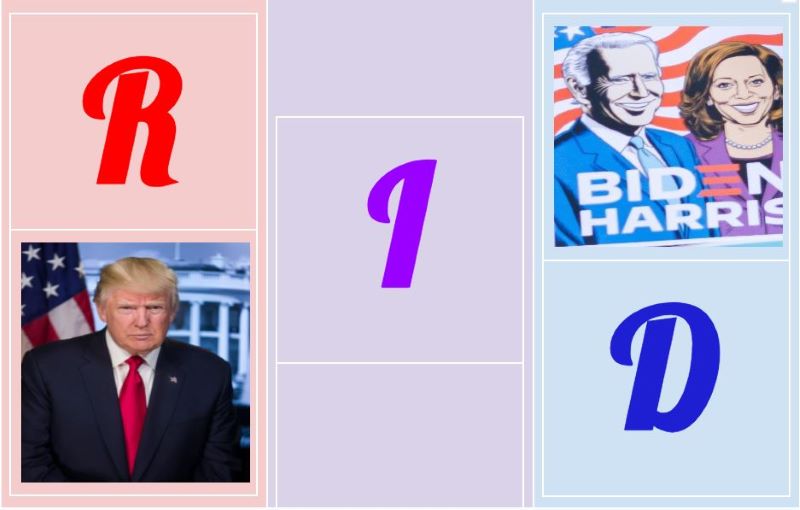 13 Nov

"I" is for Independents

Ideologically, from left to right you have your Democrats, your Independents, and your Republicans. But, if you reverse that order, the Republicans, Independents, and Democrats form the acronym RID, as illustrated above.

And, as in: "Please, somebody, rid us of the mess in our national capitol."

Could that "somebody" be candidates who are independents and third parties? Are they a means of getting extricated from being Stuck in the Middle with You (Nov. 30, 2021)?

Fact 1: A poll this summer showed that, if voters see a 2020 rerun on their presidential ballots next year, 33 percent would favor Donald Trump, 32 percent Joe Biden, and 31 percent neither of them.

Fact 2: It is not just those two frontrunners the people do not like. Some 27 percent of Americans hold an unfavorable view of both major political parties. This may not sound shocking until one considers that 27 is four-and-a-half times higher than that percentage stood just three decades ago, in 1994, when only six percent disliked both parties.

Fact 3: Even with one of their own in the White House, 78 percent of Democrats think the country is "on the wrong track," and 92 percent of Republicans feel the same way. (Who says Republicans and Democrats do not agree on anything?)

Fact 4: Since the 2000 election, no party has put forth a presidential candidate who received more than 53 percent of the popular vote nationwide.

These facts all point to the conclusion that Americans are begging for another, better option to unite us.

Could it be, as Principle Based Politics hypothesized in An Independent President (May 10, 2022), that the time has come when a non-Republican, non-Democrat could or, perhaps, should be elected?

There are various entities and individuals exploring this possibility. Most prominently, a bipartisan group calling itself No Labels is preparing an alternative approach it will use if both Presidents Biden and Trump become their respective parties' nominees. A completely new political third party, No Labels is reserving a spot on the general election ballot for a presidential ticket that would include a former Republican and a former Democrat – in either order – as president and vice president.

Currently, No Labels says it will jump in after the Super Tuesday primaries in March if it looks by then like the traditional parties will offer up Messrs. Biden and Trump. No Labels says its polls show 59 percent of voters prefer a moderate independent, and that 60 to 70 percent say they would consider voting for one. With policy positions called "Common Sense," No Labels is openly attempting to force one or both political parties closer to centrism than to the extreme positions of their current bases.

There are others. After an unsuccessful presidential bid as a Democrat in 2020, Andrew Yang created the Forward Party, with the slogan "Not Left. Not Right. FORWARD." Although Yang has yet to join the 2024 race, individuals who already are running as independents include Robert F. Kennedy, Jr. (a former Democrat) and Cornel West (formerly of the Green Party). Yet others, such as Chase Oliver of the Libertarian Party and Jill Stein of the Green Party, have announced presidential candidacies through existing third parties. Senator Joe Manchin of West Virginia (currently a Democrat) also appears to be considering an independent run.

Many people fear these independent or third-party candidacies. The primary concern they express is that any central or left-leaning alternative will help elect Donald Trump by taking votes away from President Biden. One group called Citizens to Save Our Republic has been created specifically to fight against No Labels, which it views as the biggest threat to Biden. These groups see Trump as such a danger to democracy that everyone should coalesce around a single alternative who can defeat him, and they could be correct.

Nonetheless, not-for-profit organizations also have gotten involved in the search for a solution. Americans Together, led by Heather Manchin (Joe's daughter and a former CEO), is a politically active nonprofit seeking to promote centrist policies and candidates and to "give the politically homeless a voice." A Minnesota-focused nonprofit named Majority in the Middle also is working hard to mobilize citizens and politicians to fight against the extremism all-too-common among Republicans and Democrats.

Last but not least, there is our nationally focused Principle Based Politics. Although we are not seeking or accepting donations, ours is a nonprofit entity formed in 2021 with a grassroots mission "to spread the idea of principles leading to reasonable, rational federal policies that will help all Americans." Our goal is "to bring citizens alternatives to the extreme positions and partisanship seen in past elections."

To those who believe that the search for options can only harm democracy by helping elect Donald Trump, we say this: We understand your theory that Trump's voters are locked in, and that any support for independents and third parties will only take votes away from Joe Biden and the Republicans who are trying to wrest the nomination away from Mr. Trump.

Principle Based Politics believes these fears mostly raise a question of timing: At what point should all non-Trump candidates bow out except one? We see no reason why that point needs to be before the caucuses and primaries in the first three months of 2024. The time for exploring options to Mr. Trump is now, as the parties begin to narrow in on their candidates.

Republicans should be vetting their options, as should Democrats and all other voters. One of those options is for primary and caucus voters to choose a more nonpartisan nominee for their parties. At the least, all independent-thinking Americans can remind political leaders that Americans have multiple choices, so party leadership should support candidates who do not reflect the extremes within the parties.

This completes our series of posts on the candidates who are actively pursuing the White House at this time.

Written by Quentin R. Wittrock, founder of Principle Based Politics. 

Look for his posts each week, as this blog will explore and promote the idea of principle in politics, both as to individual elected leaders and our federal government as an institution.

Principle Based Politics does not endorse or support any particular candidate or party.