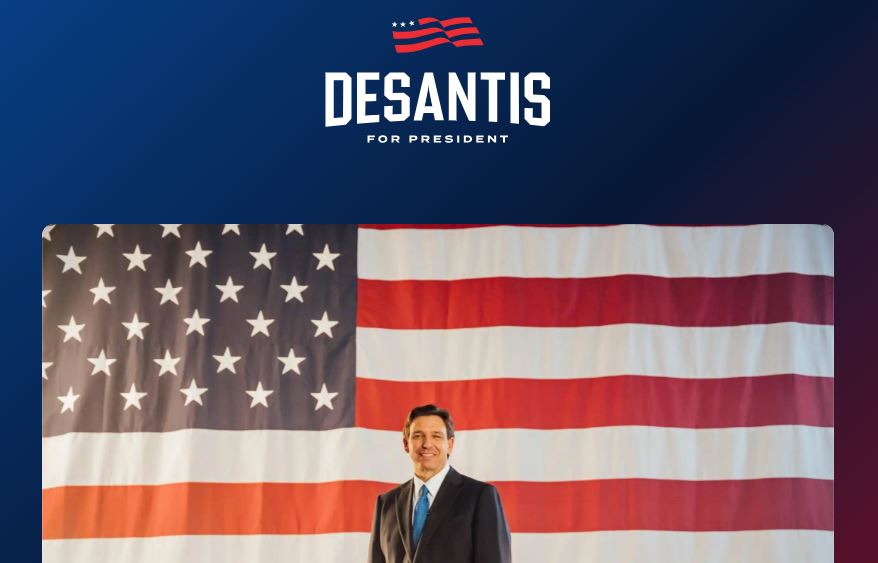 05 Sep

D is for Ron DeSantis

Florida; Governor 2019-present, U.S. House 2013-2018; age 44.

Ironically and somewhat humorously, the letter D on our candidate listing stands for DeSantis. Ron DeSantis, a Republican, is the governor of a Republican state in which Republicans control both houses of the legislature. Moreover, his primary approach to his campaign so far has been to label Democrats as supporting all things "woke," and then bragging repeatedly that "Florida is where woke goes to die."

Please do not tell Governor DeSantis that instead of waiting on the letter R – as in Republican and Ron – for our alphabetical series of posts, this blog is using him to fill the otherwise unfilled D spot.

Accordingly, we have done due diligence to see what DeSantis brings to the GOP slate of candidates.

Originally, DeSantis defined his candidacy primarily by being opposed to various things. He is the leading enemy of wokeness, as mentioned. He picks fights with major corporations and brands, such as Disney and Bud Light. He takes on state educational institutions and federal health authorities. He attacks the media. He makes a show of his opposition to illegal immigrants and criminals. And, more than anything else, he wants to be considered as the foremost adversary of "leftist ideology" and liberalism.

All of that was his prerogative, but what is Ron DeSantis for? Beyond favoring generalities like freedom, conservatism, the American "way of life," and winning elections, DeSantis and his more recent statements do offer a few clues regarding his affirmative policy positions.

Sitting governors like DeSantis may best indicate how they would run the country by the way they run their home state. In Florida, for example, Governor DeSantis recently signed a bill banning abortion after six weeks of pregnancy, with exceptions that allow some procedures in the first 15 weeks.

DeSantis, who first jumped onto the national stage by keeping Florida schools and businesses more "open" than most states during the Covid pandemic, also has promoted what he calls "parents' choice" on where children attend school, teachers and students not being required to use any new pronouns, prohibiting the teaching of sexual orientation and gender identification through eighth grade, allowing public prayer before school sporting events, and establishing a review process for parents to object to books. Further on the subject of education, Florida, under the leadership of Governor DeSantis, also has revised its state budgets to allocate more funding for teachers. At the higher education level, Florida universities cannot spend money to teach diversity, equity, and inclusion, nor can they teach political or social activism. DeSantis also has proposed that universities (rather than the federal government) be responsible for their own student loans, while allowing those loans to be discharged in bankruptcy.

Regarding gender, Florida recently enacted a new law banning puberty blockers and some surgeries for children, along with protecting female athletes from participating against biological males who have adopted a female identity. Public buildings in Florida must have separate restrooms for each birth sex, and another new law precludes sexually explicit adult performances in front of children.

As to gun control, DeSantis signed a bill allowing Floridians to carry concealed handguns without a permit.

DeSantis says he wants the 2017 federal tax cuts extended for people and businesses. On the related issue of government spending and benefits, DeSantis favors work requirements for welfare recipients.

Immigration is primarily a federal issue, as DeSantis knows from his time in the U.S. House of Representatives. Nevertheless, under his governorship, Florida now invalidates driver's licenses other states have given to illegal aliens, has enacted state penalties for smuggling immigrants, and has sent immigrants to what the governor believes are liberal places. He adds that, if elected president, he would strive to make immigrants stay outside the country to await proceedings, he would declare a national border emergency, and his administration would complete the border wall.

DeSantis, who served as a commissioned officer in the Navy, earlier this year described Russia's invasion of Ukraine as a "territorial dispute" that is not a "vital interest" of the United States. He now opposes further funding for Ukraine, saying during the recent GOP debate that "Europe needs to step up first" and that the U.S. must "secure our own border first." He favors the U.S. military "going into Mexico to crush the drug cartels."

As with each of our candidate summaries, we provide a link to the Ballotpedia page regarding Ron DeSantis, which in turn includes links to his campaign website and social media.

These positions, while extensive and clearly expressed, still offer somewhat of a blurred picture of what leadership and government principles we could expect to see Governor DeSantis promote as President DeSantis.  For example, would he advance the principle of freedom and free enterprise and limited government through his positions on taxation and spending, or would he use the Oval Office to restrict individual liberty and business autonomy through focus on The Unwinnable Culture Wars? Perhaps he would do both, exacerbating the ambiguity.

Assuming the varied approaches above reflect the strongly held beliefs of Mr. DeSantis, his unwavering emphasis on them could be viewed as a sign of integrity, which is another of the key principles for this blog. But, the fierce desire to fight those battles, coupled with the candidate's lukewarm views on Ukraine, also could show that he undervalues the principle of peace.

One thing that seems clear is that Ron DeSantis strives to learn about policy options and use them to protect what he sees as the best interests of his state's citizens, thus arguably reflecting the principles of understanding and service. The latter value also is underlined by his own military service.

Written by Quentin R. Wittrock, founder of Principle Based Politics. 

Look for his posts each week, as this blog will explore and promote the idea of principle in politics, both as to individual elected leaders and our federal government as an institution.

Principle Based Politics does not endorse or support any particular candidate or party.