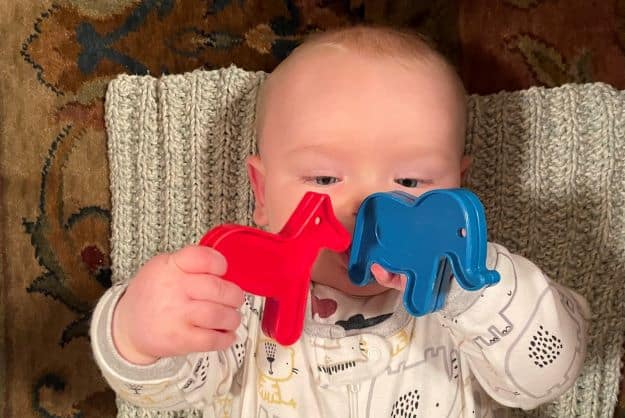 17 Jan

Infant to Congress: The Word is Legislate

"I may be six months old," our grandson said, "but I can tell already that something is not right here."

We responded, "Are you saying that, despite being an infant, you already know the elephant in your Noah's ark set (see photo) should be Republican red and the donkey is supposed to be Democrat blue?"

"No, no, no," our grandson explained. "I heard you talking over the holidays about a federal investigation into flights cancelled by Southwest Airlines, and I know also that Congress does partisan investigations of everything from squash soup to pureed nuts. Does it not say in the United States Constitution that their job is to legislate, not investigate?"

"You have profound wisdom for any age," we replied.

Ought There be an Investigation, Really?

Although the above conversation obviously is imaginary, it is true that much congressional investigating takes place in Washington, D.C. For years under Democratic leadership, we have heard a great deal about subpoenas, impeachments, contempt votes, etcetera. Now, within the new Republican majority in the House of Representatives, there are calls for payback.

In fact, we soon will have dueling investigations. First is the ongoing inquiry led by special prosecutor Jack Smith, who was appointed by Attorney General Merrick Garland to lead a U.S. Department of Justice investigation into the attack on the U.S. Capitol two years ago. The Democrat-controlled House of Representatives January 6 Committee, after investigating for a year and a half and questioning a thousand witnesses, recently concluded that the Justice Department should indeed prosecute President Trump for criminal actions in inspiring the attack.* In addition, independent counsel are investigating classified documents improperly kept at presidential resorts, offices, and home garages.

*There also has been a great deal of time and effort spent uncovering President Trump's tax returns, as you no doubt know.

With the Republicans, in turn, comes the prospect of at least seven new congressional investigations into (1) Hunter Biden, who did business overseas, trying to profit from his father's position; (2) the U.S. military withdrawal from Afghanistan; (3) the Biden Administration's response to border chaos and the related fentanyl crisis; (4) politicization of the Justice Department and FBI, relating in particular to those agencies' investigations of President Trump; (5) Covid-19's origin; (6) fraud in Covid pandemic assistance programs; and (7) current energy policies.

And then we have the investigation of Southwest Airlines over cancelled flights. We are not sure exactly which party pushed hardest for that one.

More Governing, Less Showboating

We definitely are not saying there should be a congressional investigation into why so many investigations are taking place. Our point is that there already are too many investigations.

This blog previously wrote about the hubbub regarding Hunter Biden (and, conversely, Ginni Thomas), in A Son's Laptop, A Wife's Texts (April 19, 2022). The Justice Department already is investigating whether Hunter Biden did anything criminal, and he may or may not be indicted. If he is prosecuted, any House investigation likely would be postponed, so there appears to be nothing for Congress to add.

Republicans should learn from Democrats' mistakes with their own investigations, which provided a GOP rallying cry in the 2022 midterm elections. Remember, both impeachments failed in the Senate. And, the January 6 Committee's much-publicized efforts, though enlightening, were quite redundant of what the Justice Department is doing, with the DOJ having more power to act on its findings.

Instead of their threatened investigations now, Republicans should propose reforms, new policies, and laws to eliminate our country's substantive problems in the future. In short, both parties should move on and must legislate. They should get to work on inflation, national defense, immigration policy, climate change, crime, budgets, spending, and the economy.

We think Americans are tired of things that are for show, or purely for political advantage. We do not want members of Congress spending so much time and taxpayer money trying to expose their political enemies.

If an investigation truly will benefit all of America (not just one political party) and Congress is the best entity to perform it, an inquiry should be conducted. But it should be done professionally, thoroughly, and apolitically, rather than staged for partisan benefit. The vast majority of necessary investigations would be more effectively performed by the government department responsible for such matters.

Things being done for show should not be done. Enough already with the political theatrics.

Written by Quentin R. Wittrock, founder of Principle Based Politics. 

Look for his posts each week, as this blog will explore and promote the idea of principle in politics, both as to individual elected leaders and our federal government as an institution.