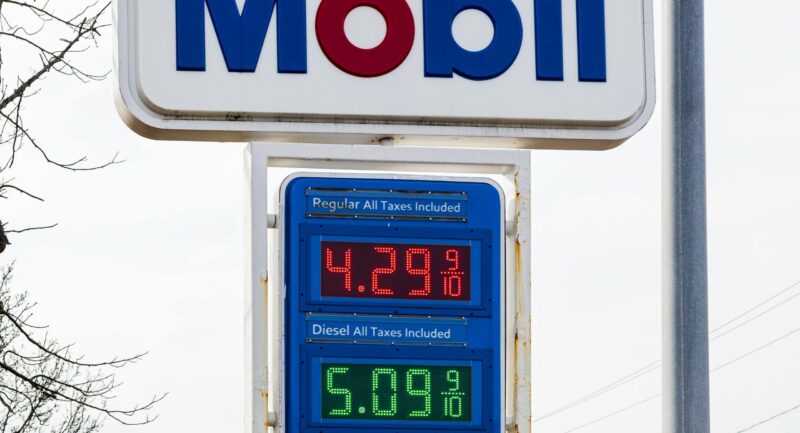 22 Mar

We're Talking about Gas Prices?

Here is a partial list of "issues" this blog either does not care about or at least does not pin on our federal leaders:
The contracts of Tom Brady, Aaron Rodgers, or even Kirk Cousins
Semi-annual switches between daylight savings time and standard time, or the relative merits of either
Gas prices*
*Our level of political interest in these topics is like that of basketball legend Allen Iverson when asked about his dedication to practicing his sport. The title of today's post recalls Iverson's famous speech.
The old question, "What does that have to do with the price of beans?" was a rhetorical way of calling someone's point utterly irrelevant, off the subject, or possibly misleading. That, and more, is our reaction to the current political complaints about prices at the gas stations and how "Biden" or federal policy supposedly caused the recent increases.
In short, what does our federal government have to do with the price of gas?
Correlation and causation are two different things. That is a sophisticated way of saying that events happening after or during other events are not necessarily caused thereby. The fact that Iowa won the Big Ten in basketball (women and men!), did not result from any political decisions by the state governor, for example, nor did the fact that both teams lost the next weekend in the NCAA Tournaments. 
This example displays approximately the same level of causation as between today's gas prices and Joe Biden.
For the history buffs out there, Principle Based Politics has studied the gas prices for this century. The biggest increase started in 2001 and continued until 2008, when George W. Bush, from oil-rich Texas, was in the White House. During that time, prices rose from roughly $1 to $4 per gallon. The biggest decrease was in 2008 also, when the same George Bush was president, and prices fell abruptly from more than $4 to less than $2. Under President Obama, prices then rose again from $2 to $4, before falling back to around $2. Under President Trump, pump prices went from $2 to $3, then back to $2.
Were Presidents Bush, Obama, and Trump to blame for the increases, or should they get credit for the drops during their administrations, or both? Neither. Did they allow drilling, stop drilling, build pipelines, stop pipelines, drill, stop, build, then stop building, favor green energy then disfavor it, all causing prices to go up and down every year or two? No.
Today's high prices are not caused by any president, a pipeline decision, or drilling leases*
*We have read there are a thousand new leases issued by the federal government and yet to be used. Moreover, the Keystone XL Pipeline was only 10 percent completed when President Biden took office, and it would not be operational now in any circumstances.
Prices go up, they come down, they go up again, etc. No politician should try to take credit or get blamed for either. It simply is not a political issue. Gas prices primarily are affected by market forces. Period.
A more gut-level reaction to the blaming and complaints about gas prices is this: Seriously, folks, when Ukrainian babies, children, and adults are starving, fearful and dying, and their country is being demolished city by city, are well-off Americans going to sit in our fancy, gas-guzzling SUVs and trucks, sip our latte, and complain via our new smart phones about gas prices as we drive to Florida so our kiddos can experience the happiness of Disney?*
*We do empathize with the poor and middle class who need to drive long distances to work, and we do understand that overall inflation is worsened by gas price hikes.
Sacrifice is necessary sometimes. Just ask any elderly person what rationing was like during World War II; butter, tires, meat, and, yes, gas rationing all were required. It is embarrassing to see relatively wealthy Americans complaining about gas prices today.
It also is embarrassing to see politicians (primarily Democrats) calling for a "pause" in the federal gas tax for the rest of 2022—just long enough for those politicians to get reelected. That is flagrant pandering, which, as we have discussed, is the opposite of principled politics.
Our country has more important, real issues on which to focus.
Written by Quentin R. Wittrock, founder of Principle Based Politics. 
Look for his posts each week, as this blog will explore and promote the idea of principle in politics, both as to individual elected leaders and our federal government as an institution.