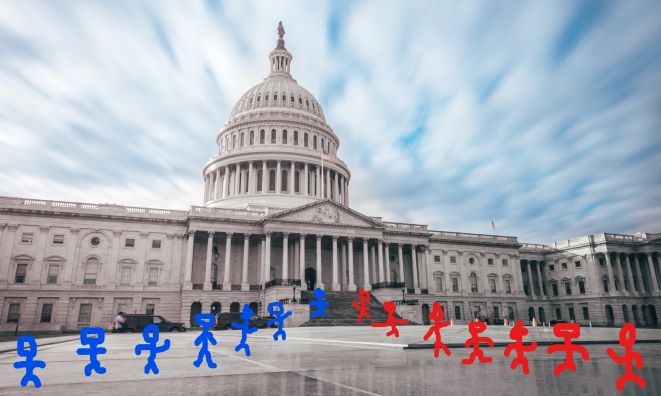 02 Aug

Omar and Over One Thousand Others

Some, like U.S. Rep. Ilhan Omar of Minneapolis, get themselves arrested as a publicity stunt they think will help them get or stay in office. Others boast of their support for and from Donald Trump. Conversely, others attack Mr. Trump as if he himself were their ballot opponent. Almost nobody brags about closeness with President Joe Biden (with a 35 percent approval rating).

Federal midterm congressional elections are fast approaching, with all 435 seats in the U.S. House of Representatives up for grabs. An additional 34 U.S. Senate seats will be contested in 2022. All told, there are more than 1,000 candidates for these spots. It should be interesting.*

*Interesting is a midwestern term that can be used to mean either terrible, exciting, fun, intriguing, or, even, boring. See also the ironic ancient curse, "May you live in interesting times."

The good news is that the average voter only really needs to understand the viewpoints and principles of a dozen candidates or so. Because this blog is published from Minnesota, we will use the reelection race of Ms. Omar, a particularly interesting candidate, to illustrate how information is readily available for use by voters in evaluating their choices in primary elections this month and in the general election in November.

Cicely, Ilhan, and Don, Et Al.

We will start with the Republicans. Cicely Davis, a newcomer to federal politics who has raised millions of dollars in campaign cash, is on the Republican primary ballot for August 9, along with Royce White and Guy Gaskin. Mr. White, a professional athlete, has a campaign website that is in-your-face in describing "the issues" as he sees them: "Our country is held captive by the corrupt. We must take it back." His home page reads: "No lockdowns, no mandates, no apologies, no sellin' out. It's time to clean house," adding, "I'm a father and patriot ready to fight for The Free People of America." Mr. Gaskin does not appear to have a website, and his "campaign" may be inactive.

Ms. Davis, in addition to being well funded, has a campaign website that emphasizes the word unafraid to describe her willingness to work, speak up, and fight. She says she wants a "United Minnesota," adding that she "will stand up to Marxism and end the weaponizing of race by politicians in Washington," with goals to "put a stop to failed leadership by supporting our police, cutting outrageous taxes, and depoliticizing our classrooms so we can focus on a quality education." She lambasts violent crime, inflation, Critical Race Theory, the withdrawal of forces from Afghanistan, the "border crisis," "woke ideologies," the Left, and the Biden Administration in general. All are standard themes for Republicans this year nationally.

Both Republican candidate websites harshly criticize Ms. Omar, the incumbent since 2018. Neither mentions Mr. Trump or the 2020 election.

Democrats will have a choice of five in the primary election on August 9: Ilhan Omar, A.J. Kern, Albert Ross, Don Samuels, and Nate Schluter. Of those challenging the incumbent, it is Mr. Samuels who appears best prepared. He has a website fully setting forth his positions supporting education, healthcare, democracy, immigration, the environment, public safety, abortion, and other traditional Democratic policies. Kern (who describes herself as a "conservative Christian" running on a platform similar to many current Republicans), Ross, and Schluter also have campaign websites.

Ms. Omar is a Progressive's Progressive. Her website says she wants to abolish the Immigration and Customs Enforcement (ICE) agency, create a federal program to guarantee all Americans a job, increase taxes on "the wealthiest Americans," provide healthcare coverage for all, pass a federal law allowing abortion in all states, strengthen gun control, legalize recreational cannabis, pass the Green New Deal, "demilitarize police departments," and further LGBTQIA rights. She also felt so strongly about President Biden's multi-trillion-dollar Build Back Better spending legislation that she was one of only a few Democrats who voted against the related infrastructure spending bill because it did not include all of the other new budget items. Most recently, she is one of 17 Democratic congresspeople to get arrested intentionally by blocking a street outside the Supreme Court.

The winners from next week's primaries will qualify for the ballot for the November general election.

Written by Quentin R. Wittrock, founder of Principle Based Politics. 

Look for his posts each week, as this blog will explore and promote the idea of principle in politics, both as to individual elected leaders and our federal government as an institution.