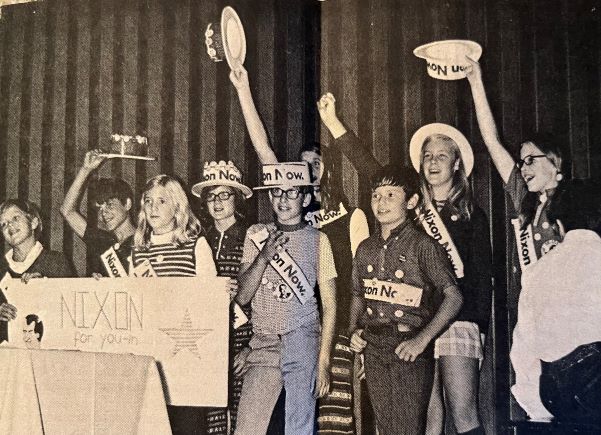 25 Oct

1972

Nixon Now. Re-elect the President. America Needs Nixon-Agnew. Those were the campaign buttons, banners, and hats your blogger proudly wore 50 years ago. You see, in 1972, a club called "Kids for Nixon" was formed to support the re-election campaign of the infamous Richard M. Nixon.* Oops.

*See indisputable visual evidence above, particularly a future blogger doffing his hat in the back row toward the left. We will not reveal the names of the others, at least one of which went on to become a prominent politician. Ah, the innocence of youth.

Though indeed he was re-elected overwhelmingly on November 7, 1972, the impressive political run was about to end for Dick Nixon.

You Don't Know as Much as You Think You Do

In reviewing this personal and national history, it is clear that preteen Iowans were not the only "innocents" fooled in 1972. Nixon won 49 states, while George McGovern garnered only one. Nixon received 520 electoral votes and the widest popular vote margin in the last 80 years. He even carried Minnesota, the last time a Republican has done so (with subsequent GOP results comprising the longest losing streak ever by any party in any state).

America, as a country, simply did not know then what it soon found out after the 1972 election.

The Watergate break-in and wiretapping had occurred some five months before the election, but voters were unaware of it. Separately, Spiro Agnew earlier had taken kickbacks and evaded taxes, forcing him to resign as Nixon's Vice President in 1973, but voters in 1972 did not know any of that either. Nixon himself would be impeached and forced to resign in 1974.

So, just what message can voters five decades later take from 1972? Principle Based Politics, having learned a harsh lesson from the Kids for Nixon experience, vividly realizes that new facts can and likely will become known after any election. For this reason alone, we should vote based on principles, rather than on the issues or mood of the day. Voters 50 years ago should have focused more on which candidates manifested the leadership principles of honesty and integrity, along with the governing principles of law, justice, and transparency.

Here is a very recent case on point: Four years ago, when state governors were being elected in 2018, no voter had ever heard of Covid-19. The virus and its ramifications became "new facts" about which everyone became painfully aware, but not until a year after the elected governors were in office. Had Americans known about Covid in 2018, we might have based our votes on how governors would handle a pandemic.

Specifically, would 2018 gubernatorial candidates later demonstrate the principle of understanding by recognizing the need for accurate scientific facts before making decisions about mask mandates? Would candidates emphasize the principles of freedom and free enterprise when considering lockdowns and school closures? Would candidates focus on the principle of protecting the vulnerable when issuing state health guidelines? Would candidates honor the principle of limited government instead of supporting inflation-causing "stimulus" payments?

The fundamental message from Covid is like the message from 1972. Because you do not know what issues will face a state or country, we must elect officials based on the leadership principles they have demonstrated and the governing principles they will follow.

In looking back to 1972, surely we all recognize another fact—that 50 years go by quickly. In 1972, the concept of the year 2022 was unfathomable. Heck, a futurist book was 1984 by George Orwell, and a way-in-the-future movie was 2001: A Space Odyssey.

Now, here we are, decades after the future. And, we have no choice but to acknowledge that impossibly soon it will be 2072—fifty years from now. By then, Donald and Melania Trump's young son, Barron, will be a 66-year-old man. The youngest Obama daughter, Sasha, will be 71. Many of us, obviously, will no longer be around then to vote for either of them or to worry about our state, country, or world.

Our best bet, therefore, is to elect principled officials in 2022 and let the quickly-developing facts and issues play out as they become known.

Written by Quentin R. Wittrock, founder of Principle Based Politics. 

Look for his posts each week, as this blog will explore and promote the idea of principle in politics, both as to individual elected leaders and our federal government as an institution.