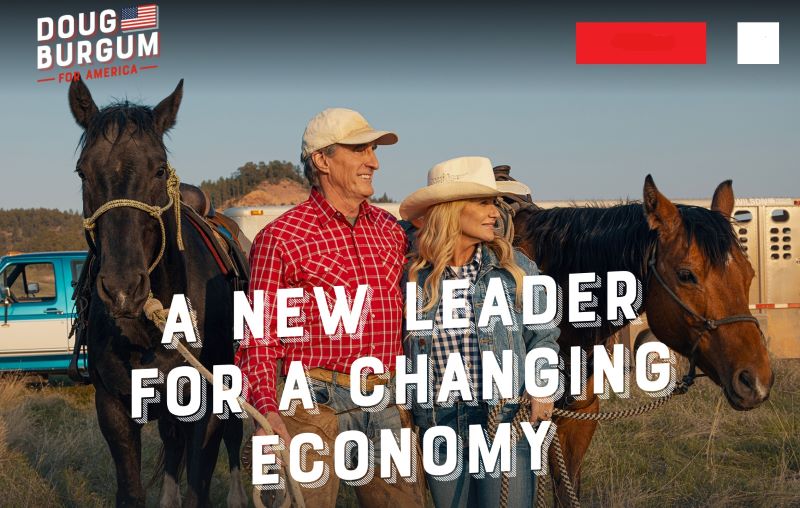 15 Aug

B is for Burgum, Doug

North Dakota; Governor 2016-present; businessman; age 67.

In addition to the initial B tied to his surname, for Doug Burgum, B also stands for business.

Burgum's background and political approach reflect the central role of business in his life and campaign. The founder and eventual seller of a business software company, Mr. Burgum became a business executive and investor. As North Dakota's governor since 2016, his policies have been pro-business, and he has attempted to run the state like a business.

Since announcing his presidential campaign in June of 2023, Burgum also has focused on issues such as energy production, the economy, and national security.

It is common to assume that any state governor running for President of the United States will approach the country's affairs similar to the way he or she did at the state level. Executive decision making, policy priorities, and administrative style all are considered to be transferrable to the White House. This may or may not be a valid assumption.

If his track record in North Dakota does transfer to Washington, D.C., Doug Burgum would be business oriented. As a governor, Burgum cut taxes, cut government spending, balanced the state budget, and supported North Dakota's energy production industry. Oil, coal, gas, and fracking interests (and their many employees living in North Dakota communities) all benefitted.

These positions all appear to advance the principle of freedom and free enterprise.

Many of these policies also reflect adherence to the principle of limited government, one of the government principles espoused by Principle Based Politics. In addition, Burgum cites the Tenth Amendment of the U.S. Constitution (which says that many matters "are reserved to the States, respectively, or to the people"), in wanting to get the "federal government focused on the stuff that matters." The culture wars, Burgum has said, are none of the U.S. government's business.*

*As governor, Burgum did sign near-total statewide bans on abortion, gender-affirming care for minors, and the teaching of critical race theory.

Burgum's willingness to steer his presidential campaign away from The Unwinnable Culture Wars , which are popular among Republican primary voters, could be viewed also as a sign of integrity, which is another of the key leadership principles for this blog.

As will be the case in each of our candidate summaries, we provide here a link to the unbiased Ballotpedia page regarding Doug Burgum, which includes links to his campaign website and social media.

Now that we have started with Asa (Hutchinson) and here with Burgum (Doug), we are well on our way in the alphabetical look at the positions and principles of candidates not named Trump or Biden. We will update these profiles as we learn more about the candidates. Yet to come are the likes of Ron DeSantis, Nikki Haley, Mike Pence, Vivek Ramaswamy, Tim Scott, and others.

The next one to be considered, after a pause for an article regarding the first Republican presidential debate, will be Chris Christie, a third (in his case, former) governor among the declared GOP candidates.

Written by Quentin R. Wittrock, founder of Principle Based Politics. 

Look for his posts each week, as this blog will explore and promote the idea of principle in politics, both as to individual elected leaders and our federal government as an institution.

Principle Based Politics does not endorse or support any particular candidate or party.